Foil Core Stock
Foil Core Stock is a printable PVC core laminated with holographic or metalized foil for a unique look to your full-face foil cards. Sheets are cut to customer's specifications for easy use.
This product is available in the following designs Silver, Rainbow Silver, Gold, Rainbow Gold, Brushed Silver, Stardust and Sparkle.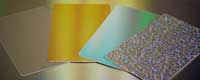 Availability
25 micron polyester, any thickness of core stocks
Sizes: sheeted or cut to specifications
Top coating: coating for print applications available
Slip agent: available for high speed feeding; a variety of foil and core materials available as well as clear polyester laminate that balances the two layer card construction
Range Material
330 μm (25 + 305)
620 μm (25+570+25)
Suggested uses
Financial, Secure ,and Chip cards
Non secure, Loyalty, and High durability
Quality Statement
User should be aware that this laminated product contains dissimilar materials. The result of this product is not guaranteed to perform like conventional PVC stock. Alchemy Plastics Inc will make every effort to manufacture the sheets to the customer's specific requirements. Extensive testing of the qualifications of the requested material must be performed prior to commercial use.